Ocean. Turning Blue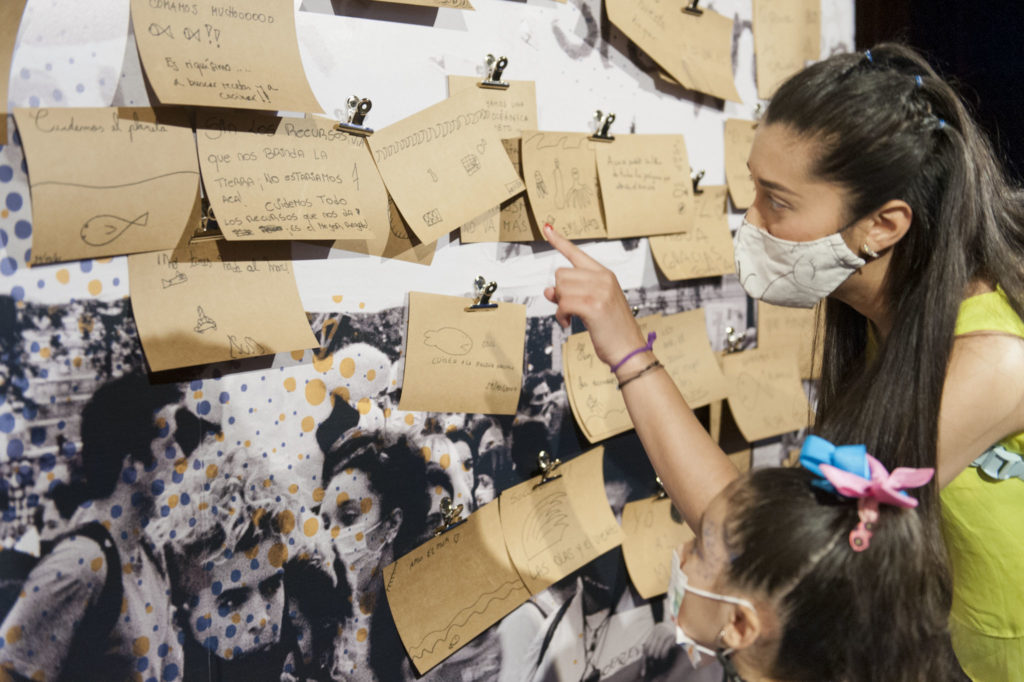 Award winner
Ocean. Turning Blue
The ocean is oxygen, life, work, sovereignty, science and culture. Almost two thirds of the surface of Argentina is covered by the waters of the Argentine Sea and the South Atlantic Ocean; however, this immensity does not prevent it from being vulnerable. In the last 200 years, lifestyles have had an impact on society, marine ecosystems, the function of the ocean as a climate moderator and its waters. The Argentine Sea is a strategic resource to deepen the technological, economic and productive development of the country; therefore, community participation is central. Dialogue about this critical situation is the opportunity to get involved, understand various phenomena and rethink our relationship with the ocean; even more so when Argentina has traditionally been associated with agricultural activities. "Turning blue colour" is the motto that expresses the metaphor of the cultural transformation to which we want to contribute. It means to get involved with the ocean culture and to recognize that the ocean begins here, in this exact place.
"Ocean. Turning Blue" is an interactive exhibition focused on the visitor developed by the Cultural Center of Science, C3, of the Ministry of Science, Technology and Innovation of Argentina. The scientific community, science and technology organizations and various public groups participated in different stages of the project. The participation of different actors was essential to reflect the challenges along the 6,000 km of coastline and more than 4,000,000 km2 of marine territory. The exhibition invites citizens and local communities to engage with the ocean in a variety of ways. For example, the "Blue Library" installation connects the ocean with everyday life while a giant Argentine map covers the floor, helping to perceive the immensity of the underwater territory. A recreation of a Patagonian seaweed forest surprises at the entrance and the fragility of the water cycle is perceived as we are immersed in an audio-visual installation that covers the entire space. In "Ocean. Turning blue colour" visitors become part of a "blue" society.
ES
Océano. Volverse Azul
El océano es oxígeno, vida, trabajo, soberanía, ciencia y cultura. Casi dos tercios de la superficie de la Argentina están cubiertos por las aguas del Mar Argentino y el océano Atlántico Sur; sin embargo, esta inmensidad no evita que sea vulnerable. En los últimos 200 años, los modos de vida impactaron en la sociedad, los ecosistemas marinos, la función del océano como moderador del clima y las características de sus aguas. El Mar Argentino es un recurso estratégico para profundizar el desarrollo tecnológico, económico y productivo del país; por eso, la participación comunitaria es central. Dialogar sobre esta situación crítica es la oportunidad para involucrarnos, entender diversos fenómenos y repensar nuestra relación con el océano; más aún cuando tradicionalmente la Argentina ha sido asociada con actividades agropecuarias. "Volverse azul" es el lema que expresa la metáfora de la transformación cultural a la cual queremos aportar. Es involucrarnos con la cultura oceánica y reconocer que el océano comienza aquí, en este exacto lugar.
"Océano. Volverse Azul" es una exposición interactiva, centrada en el visitante y desarrollada por el Centro Cultural de la Ciencia, C3, del Ministerio de Ciencia, Tecnología e Innovación de Argentina. La comunidad científica, organismos de ciencia y tecnología y diversos grupos de públicos participaron en distintas etapas del proyecto. La participación de diferentes actores fue fundamental para reflejar los desafíos a lo largo de los 6000 km de costa y más de 4.000.000 km2 de territorio marino.  La exposición invita a los ciudadanos y las comunidades locales a involucrarse con el océano de diversas formas. Por ejemplo, la instalación "Biblioteca azul" conecta el océano con la vida cotidiana mientras que un mapa argentino gigante cubre el piso ayudando a percibir la inmensidad del territorio submarino. Una recreación de un bosque de algas marinas patagónicas sorprende desde el ingreso y se percibe la fragilidad del ciclo del agua al estar inmersos en una instalación audiovisual que cubre todo el espacio. En "Océano. Volverse Azul" los visitantes son parte de una sociedad "azul".
FR
Océan, devient bleu
L'océan est oxygène, vie, travail, souveraineté, science et culture. Près des deux tiers de la surface de l'Argentine sont recouverts par les eaux de la mer d'Argentine et de l'océan Atlantique Sud, mais cette immensité n'empêche pas ce territoire d'être vulnérable. Au cours des 200 dernières années, les modes de vie ont eu un impact sur la société, sur les écosystèmes marins et sur la fonction de l'océan en tant que modérateur climatique. La mer d'Argentine est une ressource stratégique pour approfondir le développement technologique, économique et productif du pays, et la participation collective est donc cruciale. Le dialogue sur cette situation critique est une occasion de se mobiliser, de comprendre les différents phénomènes et de repenser notre relation avec l'océan, d'autant plus que l'Argentine est traditionnellement associée aux activités agricoles. « Devenir bleu » est la devise qui exprime la métaphore de la transformation culturelle à laquelle nous voulons contribuer. Cela signifie s'impliquer dans la culture de l'océan et reconnaître que l'océan commence ici, à cet endroit précis.
« Océano. Volverse Azul » (océan, devient bleu) est une exposition interactive centrée sur le visiteur qui a été conçue par le Centro Cultural de la Ciencia (le centre culturel de la science) du ministère de la Science, de la Technologie et de l'Innovation d'Argentine. La communauté scientifique, des organismes scientifiques et technologiques et divers groupes publics ont participé aux différentes étapes du projet. Cette mobilisation de nombreux acteurs a été essentielle pour comprendre et refléter les défis à relever le long des 6 000 km de côtes et des plus de 4 000 000 km2 de territoire marin. L'exposition invite les citoyens et les collectivités locales à entrer en lien avec l'océan de toutes sortes de façons. Par exemple, la « bibliothèque bleue » démontre l'interrelation entre l'océan et la vie quotidienne, et une carte géante de l'Argentine recouvre le sol pour aider à comprendre l'immensité du territoire sous-marin. À l'entrée, la reconstitution d'une forêt d'algues de Patagonie surprend, et le visiteur est confronté à la fragilité du cycle de l'eau alors qu'il est immergé dans une installation audiovisuelle qui couvre tout l'espace. Dans « Océano. Volverse Azul », le visiteur fait partie d'une société « bleue ».