CIMUSET Conference 2023

CIMUSET Conference 2023: Enhancing the Accessibility to Museums
Dates: 23-27 October 2023
Venue: National Aviation Museum of Korea, Seoul
The 50th CIMUSET annual conference in 2023 will be held at the National Aviation Museum of Korea in Seoul. ICOM newly announced a museum definition at the 26th Prague General Assembly in August 2022. The new definition adds the concept that "Open to the public, accessible and inclusive, museums foster diversity and sustainability." In this context, we would like to apply it to science and technology museums and conduct various discussions at this year annual conference.
The NAMOK opened on July 5, 2020 as Korea's first aviation-themed national museum and in particular, it is a representative museum in Korea that promotes various accessibility projects for the disadvantaged.
Key dates
30 June: Deadline for the call for papers
30 June: Deadline for submission for travel grants
End of July: Registration opens
25 July: Notification of acceptance for abstracts and sessions
21-22 October: Pre-training workshop
23-27 October: Conference and excursions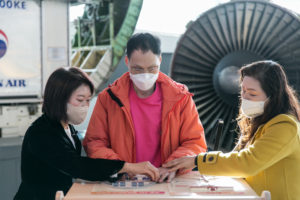 Call for papers
We are inviting members and friends of CIMUSET to submit proposals for presentations through the call for papers.
Read the call for papers here.
Deadline is 30 June 2023.
If you for various reasons are not able to present on-site in Seoul or are not able to submit the abstract in writing, you are welcome to present your abstract remotely or via a video recording. Please inform the CIMUSET secretary if this applies to you: secretary.cimuset@icom.museum
Program
Please see the conference program here: Program.
Registration and grants
ICOM Members (country group 1 + 2): 200 Euros
ICOM Members (country group 3 +4): 100 Euros
Non-ICOM Members and companions (country group 1 + 2): 250 Euros
Non-ICOM Members and companions (country group 3 + 4): 150 Euros
Registration will open in July.
Please read about the registration and grants here: Registration and grants information.
Apply for one of the grants for the conference by filling in this form.
Apply for one of the grants for the pre-training workshop and the conference by filling in this form.
Deadline for submission for the travel grants is the 30th of June.
Key Themes for the Conference and Sessions
For whom is accessibility improved and enhanced?
Disables
Socially disadvantaged
Educationally disadvantaged
Digitally disadvantaged, etc
How can we improve and enhancing accessibility in museums?
The application of new technology in museums: collecting, exhibition, education, etc
Changes in understanding and approaching visitors
What role should museums play in strengthening accessibility?
Community-based role, museum activism and leadership
Museum partnerships and networks
Environmental creation and conditions for international co-operation
Q&A
If you have any questions about the conference, please fill in this form.